IPON launched a new product-DALI dimming controller, which can improve the basic functions of lighting comfort and combine different scenes required by life to create light and shadow art by combining dynamic and static conditions. Built-in mainstream DALI and bus technology, two-in-one perfect integration, precise and reliable control, control of Ambilight at the fingertips, humanized design in line with human eye sensitivity, providing an excellent lighting experience, light and shadow, experience the collision of emotions and technology.

The IPON DALI dimming controller(dali master controller&dali dimmer module) has smooth dimming switching, has a data transmission rate of 1200bps, supports remote control, and the signal transmission distance is up to 300 meters, ensuring high-speed and accurate transmission of instructions without interference. The delicate light effect changes are compatible with two major international standards, and integrates the international standard DALI-2 technology for digital lighting control and the international standard bus technology for intelligent building industrial automation, giving full play to the advantages of both, achieving 1+1 surpassing 2, greatly improving compatibility , Stability, easy installation and wiring.
The DALI dimming controller&dali switch has dual control of color temperature and brightness, creating a variety of atmospheres at different occasions and different moments, lighting up "heartbeat" moments. The warm light of 2700K brings a warm and relaxing atmosphere, coupled with high illuminance, makes the carefully cooked dishes more colorful, illuminates the deliciousness on the tip of the tongue, enjoys a happy and delicious dinner time, and reaps good memories of home. Reading with light, quiet and not lonely, 5500K cold white light with high illuminance, help you who love reading to concentrate and immerse yourself in the ocean of knowledge. It can also reflect different light environments according to the different seasons of spring, summer, autumn and winter, combined with the physiological rhythm of the human body, so that each beam of light can create an exclusive and unique space and treasure exclusive memories.
IPON DALI Controller&dali driver makes the world shining brightly. It is the light that quietly connects people and space, sharing a common breathing rhythm. People of different ages have their own special needs for color temperature, and they can perform excellent activities under their own special values of color temperature; for example, children's visual performance at low color temperature is better than high color temperature, and 4000K is the best color temperature performance; The best performance color temperature for young and old is 6500K and 5000K respectively.
Whether it is to improve the beauty of home happiness or the decoration style of hotels and exhibition halls, DALI dimming controllers&dali dimmer switch module can meet the needs and give the building space a unique soul.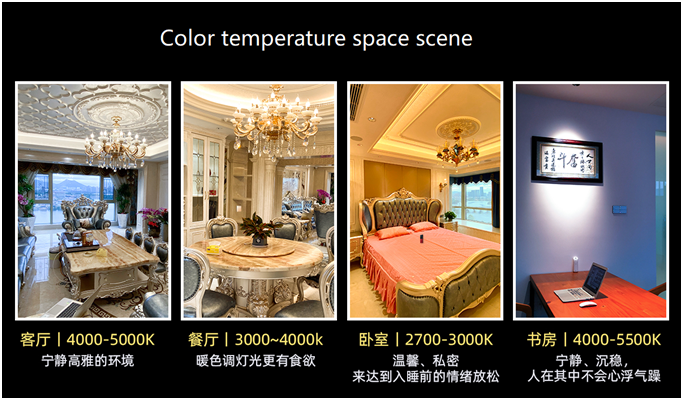 Morning light is nature's best gift to the world. In the early morning, the cold white light simulates the morning light, activating every cell in the body and injecting full energy for a beautiful day. At night, the soft and warm light will help you fall asleep peacefully, relax your body and mind, and welcome tomorrow in the best state. IPON DALI Controller&dali dimmable driver uses lights to convey emotions, and the Ambilight shines between the fingers. (Consultation Hotline: 4000-388-151)