How is the light distribution curve drawn?
IES file is an IESNA Photometric Data. The Illuminating Engineering Society of North America (IESNA) is a non-profit, learned society founded in New York City on January 10, 1906. The Society's stated mission is to improve the lighted environment by bringing together those with lighting knowledge and by translating that knowledge into actions that benefit the public.


What is IES file extension?
IES file summary
These IES files can be viewed using two known software applications, usually AutoCAD Architecture developed by Autodesk, Inc. It is associated with a major file type, but often appears in the IES Photometric Data File format. In most cases, these files are considered Data Files.
Windows supports the file extension IES. These types of files can be found mainly on desktop and some mobile devices. The popularity of the IES master file type is "low", which means that these files typically do not appear on commonly used desktop or mobile devices.
Although there is a lot of knowledge about IES files, the above is the most important information for these types of files. If you have trouble opening these files, or want more details, please see the comprehensive information below.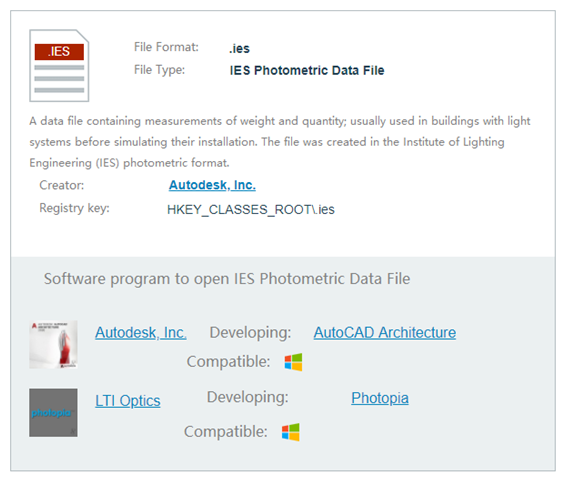 Troubleshoot difficult to open IES files
Common problems encountered in opening IES files
AutoCAD Architecture is not installed
When you click on an IES file, you may see a dialog box in your operating system stating "Cannot open this file type." If this is the case, it is usually because you do not have the %% os %% version of AutoCAD Architecture installed on your computer. Since your operating system does not know what to do with this file, you cannot open it with a double-click.
Tip: If you know another program that can open your IES file, you can try to open it by selecting an application from the listed programs.
Incorrect version of AutoCAD Architecture installed
In some cases, you may have a newer (or earlier) version of the IES Photometric Data File file, which is not supported by the version of the application you installed. If you do not have the correct version of AutoCAD Architecture (or any of the other programs listed above), you may want to try downloading another version or one of the other software applications listed above. Most often, your software application version is older and your file was created by a newer version, and your software will not recognize the file.
Tip: Sometimes you can get tips about the version of your IES file by right-clicking the file and clicking Properties (Windows) or Get Information (Mac OSX).
Summary: In either case, most of the problems with difficult to open IES files are related to the incorrect software application installed on your computer.
Other reasons for having difficulty opening IES files
Although AutoCAD Architecture or other IES-related software may already be installed on your computer, you may still experience problems opening IES Photometric Data File files. If you still cannot open IES files, there may be other issues preventing you from opening them. These issues include (listed in order of most common to least common):
Invalid IES file reference in the Windows registry ("Phonebook" for Windows operating systems)
Description of accidental deletion of IES files in Windows registry
Incomplete or incorrect installation of software applications associated with the IES format
Your IES file is corrupted (there is a problem with your IES Photometric Data File file)
Your IES is infected with malware
The device driver for the hardware associated with your IES file is corrupted or outdated
Your computer does not have sufficient system resources to open IES Photometric Data File format .